Home
»
2018
»
June
»
15
» Romanian Military Vehicle Systems, a Romanian-German joint venture, begins the production of AGILIS 8X8
---
10:03 PM
<14px>Romanian Military Vehicle Systems, a Romanian-German joint venture, begins the production of AGILIS 8X814px>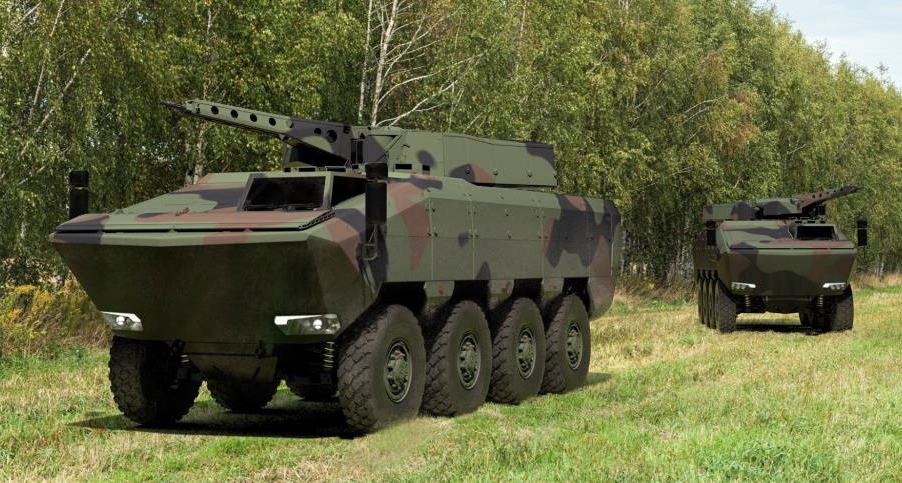 By Jerom Bolt
The Ministry of National Defense has sent to Parliament a letter approving the funding of about EUR 230 million for research, development and homologation in Romania of the armored and amphibious carrier AGILIS 8X8 by Romanian Military Vehicle Systems.
In November 2016, the Moreni Automechanical Plant, subordinated to the Ministry of Economy, signed with the Germans from Rheinmetall an agreement to establish Romanian Military Vehicle Systems (RMVS), which was formally formed on June 14, 2017.
RMVS would develop a new product at Moreni - an amphibian-armored conveyor - called Agilis 8X8.
MApN sent a letter to Parliament on 5 June requesting approval of funding of 228 million euros without VAT for the research and development phase of Agilis prototypes.
Subsequently, the MApN will acquire at least 342 of such conveyors and derived platforms (no mobile control points, honeycomb, CBRN vehicles, mortars / 120 mm caliber bombs, repair vehicle) to equip the Army, according to the letter consulted by HotNews.ro.
"After the homologation of the prototypes and the certification of the manufacturing process in Romania, the facilities created at SC Uzina Automecanica SA Moreni will be passed on to the serial production for the 342 floating armored transporters, which will be endowed with the Ministry of National Defense, a specific procedure approved by the Government's decision ", the MApN letter states.
According to the plans of the German company, the first AGILIS conveyor should be delivered by the end of 2020.
The production of Agilis 8X8 at Moreni will involve the creation of at least 120 jobs in the joint venture company, and more than 300 jobs in the current Moreni Automechanical Plant.
For AGILIS, about 87% of the components will be produced and supplied from Romania, only the engine and driveline will be purchased from outside. The vehicle housing, for all variants, will be made by the Moreni Plant.
According to the Rheinmetall strategy, local production only for conveyors for the Romanian Army would mean working at least until 2029, while the maintenance period of the entire fleet of vehicles throughout the lifespan of the conveyors will be carried out in Romania until 2055.
Views:
49
|
|
|