Renewable energy industry: new market for green certificates
By rbj
The government approved on Thursday, the Emergency Ordinance for the amending and supplementing Law 220/2008, in a form that the Minister of Energy Toma Petcu described as "the best solution to balance the preservation of the renewable energy industry and the target undertaken by the country in front the European Commission".
Romania has set a national target for 2020 of 24% of renewable energy in the gross final consumption of electricity, target that has been already achieved, but which must be conserved until the year of reference. "We can describe it as of a breath of oxygen for the renewable energy industry. At the same time, basically, it means a freeze of the maximum impact the renewable energy will have within the invoices paid by households, until 2032", said the Minister of Energy Toma Petcu, in a press release.
The main changes, as presented in the statement, are:
The elimination of the shelf life of only 12 months for the green certificates. Basically, according to the new GEO, they will be valid for the entire period of operation of the support scheme, respectively until 2032. In this way, there will be avoided the situations met in recent years, in which a large number of green certificates could not have been exploited by the producers.
The mandatory purchase quota for the electricity suppliers will be replaced with a new mechanism of the static quantity of green certificates, which will be revised every two years by ANRE, for creating a balance between consumers and producers.
These provisions are supported by creating some anonymous trading platforms for renewable energy and green certificates on the centralized markets of electricity, so that both large and small manufacturers and suppliers to be able to find their place within the market.
However, the green certificates will gain value when traded and not at the moment of issue as before, which will remove some of the pressure on the cash flows of the operators in the field. According to the new GEO, the renewable energy producers will only pay a profit tax at the moment of trading the green certificates, and not when they were registered in the accounting departments, as foreseen in the old legislation. This impediment led to insolvency and bankruptcy cases among the renewable energy producers.(rbj/1.04.2017)
Ten days left to submit conference session proposals and award nominations for EU Sustainable Energy Week
By rbj
The 2017 EU Sustainable Energy Week will take place on 19 to 25 June, and its theme this year is 'Clean Energy for All Europeans'. During the week a Policy Conference will take place in Brussels. The deadline for submitting applications to organise a policy session at the conference and for nominating projects for the EU Sustainable Energy Awards is 3 March.
As part of EU Sustainable Energy Week 2017, which is organised by the European Commission, events will be held all over Europe. They will bring together around 3000 energy entrepreneurs, policy-makers, academics, members of civil society and ordinary citizens to discuss sustainable energy policy. The Policy Conference, which will take place in Brussels on 20-22 June, will include policy sessions and networking events. Its theme of 'Clean Energy for All Europeans' was chosen to reflect the proposals published by the European Commission in November 2016. Applications to organise a themed policy session – which can be made by anyone with an interest in sustainable energy – should be submitted by 3 March.
This year's EU Sustainable Energy Awards will also be presented at the Policy Conference. These awards recognise innovative projects in the area of clean, secure and efficient energy, and there are four categories: consumers; public sector; businesses; energy islands. Winners in each category will be chosen by an expert panel, while a fifth prize — the Citizens' Award — will be chosen by a public vote. The deadline for nominating projects for an award is March 3.(rbj/23.02.2017)
The green energy producers will receive subsidies until 2032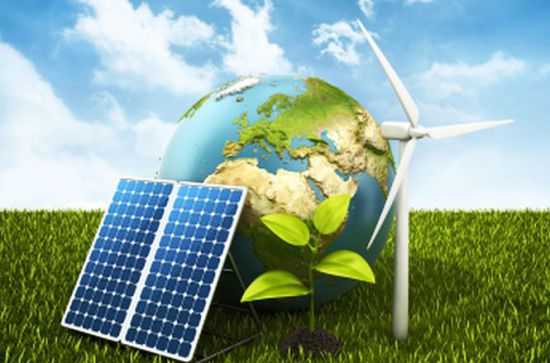 By Edwig Ban
Late last year, according to company Transelectrica, were registered 765 renewable energy producers, which have a total installed capacity of 4,741 MW. 2963 MW are installed in wind power plants, 1,350 MW in photovoltaic nearly 322 MW in small hydro, and 106 - in different plants using biomass energy production. Under the legislation, only those plants will benefit, for 15 years, subsidies for green energy production.
Under Law 220/2008, renewable energy receives support for a period of maximum 15 years "from the date on which they are to produce electricity and receive green certificates for electricity, according to art. 6, where the commissioning or retrofitting units / stations is until the end of 2016 ". It is only installed capacities until 31 December 2016 receive grants. According to Transelectrica, late last year were registered 765 producers of green energy and installed capacity was 4,741 MW. Consequently, only these abilities can get subsidies, the deadline being January 1, 2032.
Recall, the legislative package of the European Union "20-20-20" requires that, by 2020, emissions of greenhouse gas emissions to fall by 20%, energy efficiency improve by 20% and renewable energy in total consumption to represent all 20%. To achieve the goals, at least in the field of green energy, Romania passed a law 220/2008, that they are supported through green certificates and compulsory rate of consumption. A green certificate can be traded under the law in force at prices between 27 and 55 euros (plus inflation in the euro area) and the rates of consumption of the law lead to 20% green energy consumption from 2020.
At first, the law 220/2008 of the first changes was extremely generous: 6 certificates for photovoltaics, 2 for wind power. Thus, for each megawatt produced in photovoltaic plants, in addition to energy prices, investors receive 330 euros and those in the wind - still 110 euro / MWh. Regarding quotas, the law stipulated that green energy in gross final consumption was supposed to be in 2010, 8.3% in 2011-10%; in 2012-12%; in 2013-14%; in 2014-15%; 2015 - 16%; in 2016-17%; in 2017-18%; in 2018-19%; 2019 - 19.5% and in 2020-20%. Obviously, such a support scheme was too burdensome for consumption, be they industrial or household! Thus, the authorities have started to reduce support scheme: they postponed some of certificates, large consumers have been exempted from payment of maximum 85% of certificates was reduced share of consumption, the trading prices of the certificates have reached the minimum. In respect of allowances, the Government, proposed by ANRE, established a mandatory quota of renewable energy from 8.3% this year, while the Law 220/2008 provide for a share of 18%. The law also provided that, in 2014, the share is 15% and was 11.1% in 2015 to be 16% and was 11.9% and in 2016 instead of 17% it is 12.15%. However, markets Bilateral green certificates (GC) managed by Opcom (Centralized Market of Bilateral Contracts Green Certificates - PCCBCV and Market of Bilateral Contracts Green
Certificates concluded by direct negotiation - PCBCV - ND) were traded last year, almost 240 million certificates, some for periods that extend into the year 2032 (when Law 220/2008 shall lapse), or even 2036.
Most green certificates were sold last year in December (170.19 million certificates). In the same month it would have amended the law 220/2008 for the system to promote energy production from renewable energy sources.(rbj/2017.02.08)